Looking for Accommodation in Snowdonia?
Portmeirion Village is an Italianate-style tourist attraction nestled on its own peninsula overlooking the Dywryd Estuary, very close to the town of Porthmadog.
The village was designed from the 1920s onwards by Sir Clough Williams-Ellis as an example of how a development did not have to destroy its environment. It is largely inspired by the village of Portofino in Italy.
Portmeirion is worth visiting if you like the architecture and will even keep children entertained for a few hours with access to wonderful sandy beaches and play areas. You can also stay in the Portmeirion Hotel, a popular wedding destination.
In the 1960's the village of Portmeirion became famous as the setting for the popular British television series 'The Prisoner'. The show was co-created and starred Patrick McGoohan as a former British secret agent held captive by a mysterious power.
Things To Do in Portmeirion
There is a wealth of things to see and do during a visit to Portmeirion:
Stroll through the village: Take a leisurely walk around the village, admiring the vibrant colors, intricate architectural details, and beautifully manicured gardens. Guided tours are also available, providing fascinating insights into the village's history and design.
Enjoy the coastal views: Portmeirion's coastal location offers stunning views of the Dwyryd Estuary and the surrounding landscape. Take a walk along the coastal path or enjoy a moment of relaxation on one of the village's picturesque beaches.
Visit the pottery and gift shops: Portmeirion is renowned for its distinctive pottery and homeware collections, designed by Susan Williams-Ellis. Browse the various shops and purchase a unique memento or gift to remember your visit.
Explore the woodland gardens: Surrounding the village are 70 acres of lush woodland gardens, featuring exotic plants, hidden lakes, and serene walking paths. The gardens are particularly beautiful during spring, when the rhododendrons and azaleas are in full bloom.
Attend an event: Throughout the year, Portmeirion hosts a variety of events and festivals, including the popular Festival No. 6, which showcases an eclectic mix of music, arts, and culture.
Dine at one of the village's eateries: Portmeirion offers a selection of dining options, from the elegant Hotel Portmeirion to the more casual Caffi'r Sgwar. Savor a delicious meal while enjoying the village's unique atmosphere
Portmeirion Opening Hours
Portmeirion is open daily, with opening times typically from 9:00 am to 7:00 pm during the summer season and from 9:00 am to 5:00 pm during the winter season. However, it is advisable to check the official website for the most up-to-date information on opening times and ticket prices.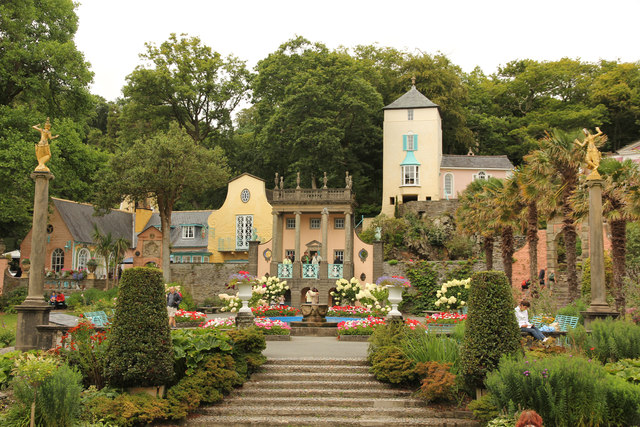 Looking for Accommodation in Snowdonia?