Looking for Accommodation in Snowdonia?
Caernarfon Castle is possibly one of the most finely preserved examples of a medieval castle in the whole of North Wales. The castle stands proudly on the banks at the mouth of the River Seiont overlooking the walled town of Caernarfon and the Menai Straits. Work started on the construction of the castle in 1283 on the orders of the then King of England, Edward I, who wanted it as a sign of the power of English dominance over the Welsh. Work continued over the next decade and although the castle was never completed to its original design it by no means fails in its original purpose. Examples of where the work failed to be completed can be seen in the unfinished main gate and strange gatehouse in the wall facing Castle Square. This gate stands about 40 feet in the air with seemingly no means to reach it. Literature in the castle explains that it would have served as a second entrance to the castle for wagons but work was never started. Visitors enter through the main gate that faces the town of Caernarfon and can then explore its many turreted polygonal towers, a feature that is unique amongst castles in Wales. Caernarfon Castle gained worldwide fame in 1969 when it served as the venue for the investiture of Prince Charles as the Prince of Wales. This followed on in the tradition started by Edward I when his first son was born in the grounds of the castle in 1284. Ever since the first son of the ruling monarch has become the Prince of Wales. There is more to do in Caernarfon Castle than just explore the walls. The castle is home to three exhibitions including a history of Caernarfon and the investiture of Prince Charles, the Regimental Museum of the Royal Welsh Fusiliers which takes you through the history of Wales oldest military regiment, and the final exhibtion which details the history of the castle. As you explore the walls the many exhibits in the towers bring alive a sense of what life must have been like for the residents of this medieval town. Today Caernarfon Castle, along with most other Welsh castles, is under the stewardship of CADW, the Welsh agency responsible for the administration and preservation of historic sites. Caernarfon is a designated World Heritage Site.
Visiting Caernarfon Castle
There are only six free car paring spots next to the castle and most of the time they are occupied. Long term paid aring is available near the waterfront or at the rear of Caernarfon Castle. Please allow a good couple of hours to explore the castle.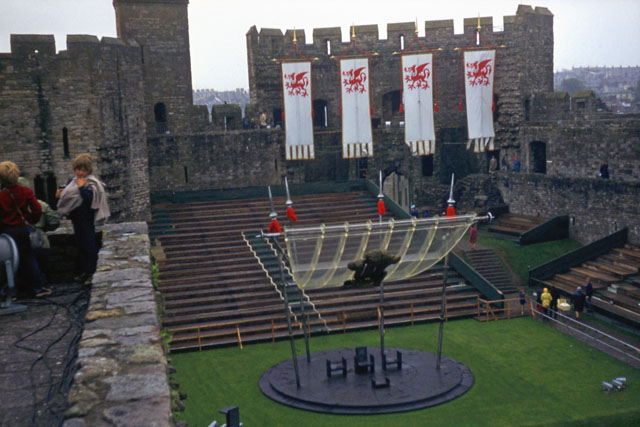 Looking for Accommodation in Snowdonia?