Looking for Accommodation in Snowdonia?
Penrhyn Castle is a neo-norman castle located close to the city of Bangor in northern Gwynedd that was built during the 19th century.
The castle is easily accessed from the A55 express way and is just a few minutes drive from Bangor.
Penrhyn Castle is owned and operated by the National Trust and has extensive gardens and art collections to explore. Paintings by Canaletto, Gainsborough and Rembrant, amongst others, hang on the walls. Outside there are over 45 acres of grounds, formal gardens and parkland, with superb views towards Snowdonia and over the Menai Strait. All this built with the huge profits from the family's slate quarries at Bethesda. Within the stable block there is the Industrial Railway Museum displaying important locomotives and industrial artefacts from the slate quarries.
A feature of the stupendous castle is the great slate bed, weighing some four tons, but there are many more attractions, including the Great Hall, the Ebony Room, and the Doll Museum (containing some 1000 dolls in national costumes of countries around the world).
The castle was pre-dated on this site by a fortified manor house built during the 15th century.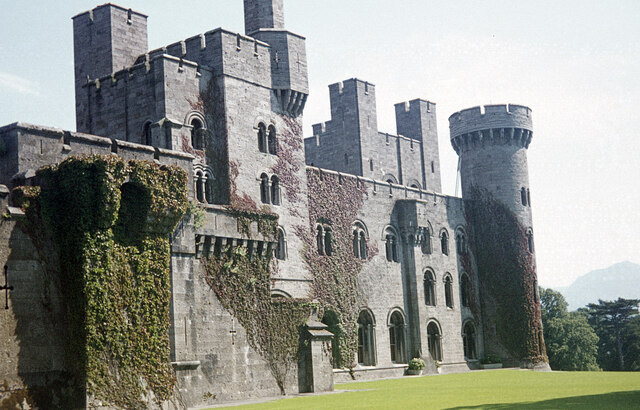 Looking for Accommodation in Snowdonia?