Looking for Accommodation in Snowdonia?
TywynTal-y-Llyn has located at the Tywyn terminus narrow gauge lines. The length of this railway is 7.25 miles (11.67 km) and a complete return journey takes 1 hour and 45 minutes.
The Talyllyn Railway is a historic narrow-gauge steam railway, set in the beautiful Mid-Wales countryside. Running from Tywyn to Abergynolwyn and Nant Gwernol, the line passes the delightful Dolgoch Falls, and there are excellent forest walks at Nant Gwernol.
The Talyllyn Railway opened with two steam locomotives, four four-wheeled passenger coaches, a brake van, and various wagons in 1866. It was the first narrow gauge railway to be built for steam traction at the outset. In 1951 a group of enthusiasts created the Talyllyn Railway Preservation society, the first of its kind in the world. Lady Haydn agreed to hand over the railway to the preservation society who operated it on membership fees, donations, and volunteer labor.
The 7¼ mile journey to Nant Gwernol takes about 55 minutes with delightful views over the River Farthew valley towards the peak of Cader Idris and through the woods past Dolgoch Falls.
Upon arrival at Nant Gwernol, the locomotive runs around the train on the loop for the return journey. The train departs for Abergynolwyn about 10 minutes later, the locomotive is then uncoupled for watering.
The train waits at Abergynolwyn for half an hour so there's time for a cuppa in the Quarryman's Caban Tea Room. The journey from Abergynolwyn back to Tywyn Wharf takes about 45 minutes, a few minutes quicker in this direction as it's downhill!
What is there to see and do along the way? Here's a summary:
At Tywyn Wharf there is a must-visit Narrow Gauge Railway Museum (free entrance), a railway shop, and toilets.
At Dolgoch Falls there are picnic tables and toilets at the station, and walks can be taken around the falls area.
At Abergynolwyn, there is the Quarryman's Caban Tea Room, a shop, toilets, an adventure playground, and a picnic area. Abergynolwyn is also a good starting point for a forest walk to Nant Gwernol.
Nant Gwernol – this is the Eastern terminus of the railway, there is no road access here but it is a great starting point for walks to explore unspoiled woodland and mountain waterfalls and to Abergynolwyn Station.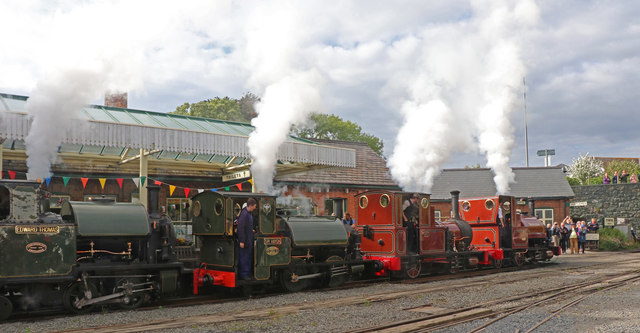 Looking for Accommodation in Snowdonia?